1994-2000
The OSSIKO company was founded in year 1994 in Český těšín, Sadová 313. The initial idea to establish a company, which dealing of machining, was born in heads of three gentelmans: Jiří Sikora, Jan Konderla nad Karol Ostruszka. They built the first production facility, where they placed their first machines. Their first machine was lathe SVR 18. They began offering their services primarily to companies and individuals, who needed a machined the metal parts. They had such contracts as weel as grinding a crankshaft for cars Škoda 120. They soon employed their forst employee. This employee works in this company today. Over time the OSSIKO company came to the attention of larger firms, which have begun use external contracts in machined. This companies included MSV Metal Studenka, Strojírny Třinec and in this time started very promising and long-term cooperation with the Bonpa ICCZ company, which provides and delivers orders to our firm today. The company employs about 10 employees at the end of this period.
2000-2010
In 2000 company moved into its own premises in Třinec Ropice. The head company are only Jiří Sikora nad Jan Konderla. Larger and more precise machines were buy to the new hall. Larger parts were begin machined in OSSIKO company. More contratc and cooperation with other firms and companies came: KOVONA SYSTEM, IP servis, VUHŽ, ROKO TREIN, LICHNA TRAIN CZ. The OSSIKO company started to produce components for foreign markets - Slovak Republic, Germany, France, Egypt. In 2005 the OSSIKO company bought the first NC lathe SE 520 NUMERIC and soon after the first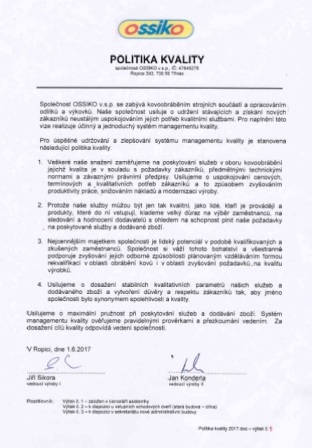 NC boring machine WH 10 NC. In 2006-2007 OSSIKO built the additional production hall, which is equipped with cranes to 5 tonnes. Larger machines such as lathes SE 820 NUMERIC, SN 710S, SUI 80 and next two horizontal boring machines WH 10 NC and W 100 are placed progresivelly in this hall. The OSSIKO company is developed and before the financial crisis in 2009 firmemployed the greatest number of emploees - 30. In 2005 the company has implemented a quality system ISO 9001:2009 and certificate TÜV. In times of crisis was not possible to fill the company´s manufacturing capabilities and therefore there is a decrease in  turnover and employees to about 18. At the turn of 2010-2011, the firm successfully implemented manufacturing capabilities and begibs to prosper again.
The present
The head company are Jiři Sikora and Jan Konderla currently. The company employes 20 employee and trying to sell their services on the German, Austrian and Swiss market. At the turn of 2010 and 2011 the OSSIKO company began to cooperate with the Department of Machining and Assembly of the Faculty of Mechanical Engineering on the VŠB - Technical University in Ostrava. The cooperation is mainly focused on optimizing the cutting parameters and materials of tools, but also the development of special tools and work-holding fixture. Our comapny is trying to adapt to current market conditions, to meet all the requirements of potentional clients.
| | | |
| --- | --- | --- |
| | | |
| Production halls | Cooperation with VŠB - Technical University of Ostrava: Measurement of surface roughness | Cooperation with VŠB - Technical University of Ostrava: Measurement of wear fo insert |